Board Game News – Gateway Gazette – 27/10/2016
|
Seems that while I was darting around the back streets of Taipei stuffing every morsel of street food into my facial orifice, things went a little upside down while I was on the other side of the world. There were calls for science to fall which would seem to be impossible without the understanding of Newton's Laws, Westworld has many people caught within the confines of the uncanny valley and we've also been a little shy on board game content while we wait for the Madness to arrive (I'm a tiny bit obsessed with the Arkham Horror LCG). Fear not though, we have a slew of news that will set all the records straight as well as a wealth of content, including a review of America's future in 6 months should Donald Drumpf become President of the free world (it's not Dream Home) and next week we'll see an eagerly awaited fantasy card game reviewed and even possibly take up some gardening with Mr Rosenberg.
But to start the news off, it wouldn't be right to chat about developments without seeing what Asmodee (The Nothing from the Never-ending Story) has gobbled up into its boardgaming corporate behemoth. F2Z Entertainment will now be known formally as Asmodee Canada, with Plaid Hat and Pretzel falling under the increasing umbrella's shadow. We cant quite say this Resident Evil reference isn't a touch disturbing, however we've yet to see any radical changes since the rampant devouring of competition by the French Mega publisher. But seeing as we can't play corporates (Stockpile may say otherwise), let's talk about some games.
New Games
Cool Mini or Not has just released the second version of Krosmaster, simply labeling it Krosmaster 2.0. In the new edition you'll see more beautifully painted chibi characters from the DOFUS movie fighting to the death in 3D battle arenas. All the miniatures are gorgeous and if you're a fan of the first set, you'll be eager to pick up these new additions to battle in up to 4 player free for all or team battle modes. You want more cuteness in battle armor? Head on over to the CMON page to find out more.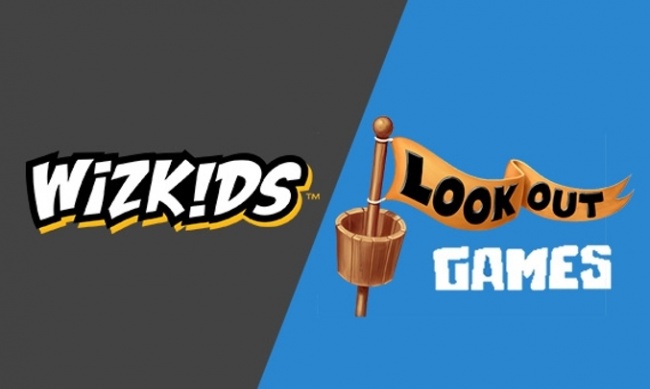 If you just picked up the new version of Agricola or the family edition, you may be feeling like you just want a little more farming in your life. While there are other excellent games revolving around agriculture, why keep switching between farms when you like the one you have? Well Z-Man and Wizkids are teaming up to bring no less than 6 additional add-ons to your Agricola set, starting in early 2017. While some of the content will be additional cards designed by Farmer Rosenberg himself, many of the upgrades will simply be cosmetic with miniatures of all your family members who will inevitably die of starvation now available. As if their deaths weren't depressing enough, but we kid (not about death so much) and are sure that fans of the game cannot wait to get a stunning version of the cult classic in their collection with all the upgrades.
Kickstarter
Paul and I thoroughly enjoyed playing my PnP copy of the base game so I can't deny that I'm interested in backing Valeria: Card Kingdoms – Flames & Frost. Similar to Machi Koro in mechanics, the fantasy theme of Valeria: Card Kingdoms and the beautiful artwork captured our attention around the table with ample resources flowing and a wide variety of options for play. Sadly there is no upgrade for the PnP for me to simply just get the new premium files to add to my collection, but for gamers who enjoy Machi Koro and want a little bit more spice and different theme I can definitely recommend looking to back this one in the next few days!
Deep Madness is Dimension Games first project and thrusts players into a cooperative arena where they must defeat the ancient evil in a tone of scenarios set in a sci-fi Lovecraft inspired world. This game seems to have taken quite a bit on inspiration from other games in similar genres and possibly a leaf or two out of The Others with beautiful miniatures, highly detailed components and a theme that will be popular with many backers. Already 6 times over its 100k funding target and numerous stretch goals unlocked, backers pledging the $100 will definitely get components value and you can check out the rule set to see if this is the cooperative horror adventure you've been looking for. (Ed: It might even shut Stuart up about the Arkham Horror LCG)
Michał Oracz has been a designer who is becoming more and more popular as his designs begin to receive the recognition they deserve and after the acclaimed Cry Havoc,  The Edge: Dawnfall may be his next pot of gold at the end of many board gamers' rainbow. In this competitive miniatures war game, players will choose from 6 unique factions, each sold separately or in packs of two conflict boxes, and fight across the landscape to secure victory for their group. Each faction pack contains 10 unique miniatures that are 32mm with numerous action cards and are totally asymmetrical in nature. If you're a tabletop player who wants to immerse themselves in a narrative world with a blend of Sci-fi and fantasy, check out the Kickstarter page and possibly drop the full 250 pounds for everything!

Square Off is a Chessboard like no other, fully automated to play against other chess lovers around the world. The board uses robotic bluetooth technology to record your movements and transmit these online and those moves are reflected to your opponent, either with both of you playing on boards in your own home or one of you on the app. You can save and record games, view streaming matches and if you cant find an opponent for any reason, you can challenge the robust AI which is sure to move rooks around your pawns. This type of technology gets us excited for the possibilities it brings to other games, and Square Off has won an award at the World Makers Faire as well as receiving press from major news outlets.
Apps
For those of you who were not at #Spiel2016 We are working on a digital version of Terra Mystica by Feuerland Spiele @Zmangames_ ETA Q1 17 pic.twitter.com/CZFwcRjHLy

— Digidiced (@digidiced) October 21, 2016
Strategy Gamers rejoice, as Terra Mystica will soon be getting its own digital version for all devices from DigiDiced. Already known for their brilliant Digital versions of Patchwork and Agricola: All Creatures Great and Small, Digidiced is branching away from Rosenberg but should no doubt deliver another brilliant adaptation of a popular board game.
Jason usually talks about wraps at this stage at the article but I'm definitely a sandwich guy. Check back tomorrow for Paul's review of 51st State: Master Set and next week we've got some great new content coming for you, including reviews on some of the latest titles to hit South African shores.
Happy gaming!