Board Game News – Gateway Gazette – 10/11/2016
|
It's that time of year again. We've already been exposed to festive marketing – as early as September. But in November it goes into overdrive, making us fully aware of the spoils that could make their way underneath our lit-up plastic trees.
Time to view the holiday specials, and the latest wave of Kickstarters to see if anything can still be delivered before Christmas.
Time to update the wishlists, and subtly dropping hints to friend and family members that are always saying "You're hard to shop for" or "I never know what to get you".
Time to look at what's making the news this week.
New Games
Fantasy Flight has just unleashed their latest card game on the world in the form of Arkham Horror: The Card Game (review coming very, very soon), but that doesn't mean they're done dishing out more tentacled co-op action. Omens of the Deep is a new expansion for FFG's Cthulhu-themed dice game, Elder Sign. This time the setting moves away from the museum, to explore the hidden horrors of the Pacific ocean.
The new R'lyeh Rising mode of gameplay features two stages as you first navigate the Dark Waters track and then assemble the Amulet of R'lyeh to stop one of three dangerous new Ancient Ones from waking and devouring the world. Engage the newly introduced mission tokens for hard-won rewards and fend off the dogged Deep One Legion as your investigators move to unknown dangers on the Pacific Adventure cards. The depths of the Pacific are filled with fresh terrors that only the bravest can attempt to seal with the power of the Elder Signs in the Omens of the Deep expansion for Elder Sign!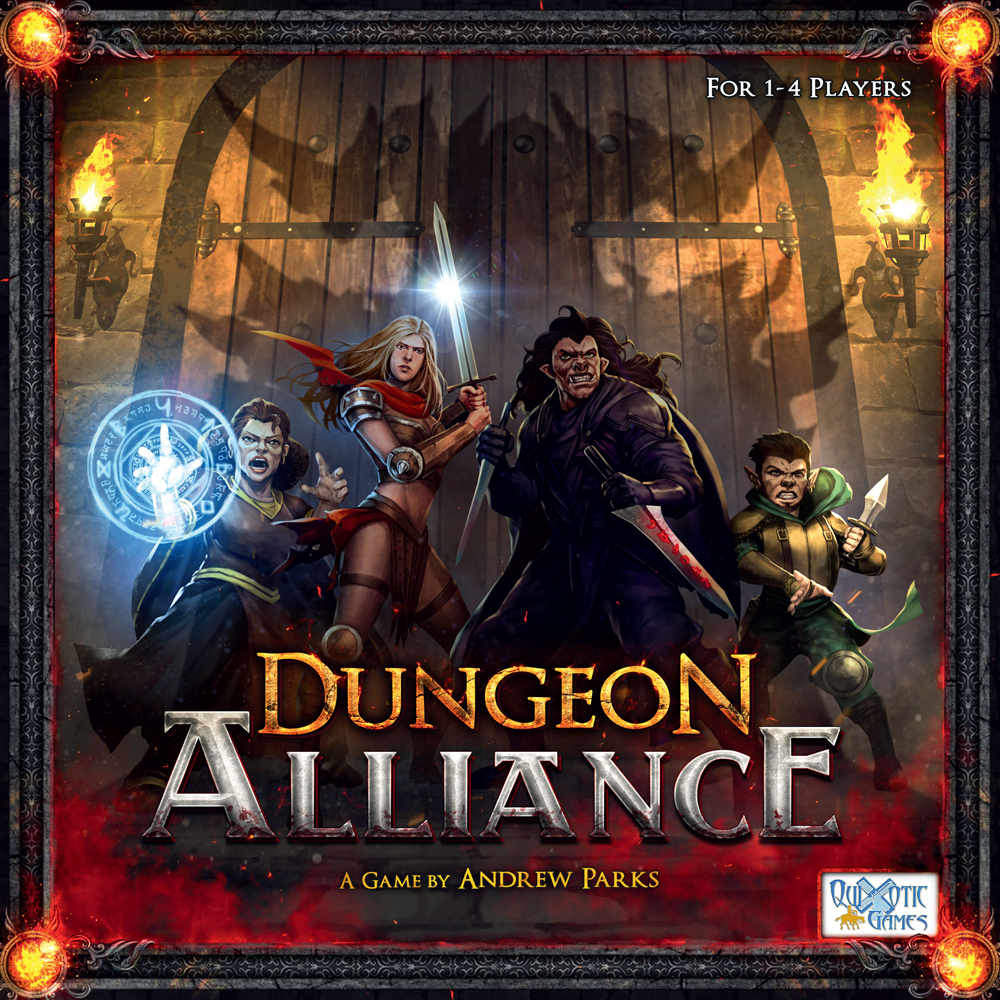 Coming to Kickstarter in January 2017 is Dungeon Alliance, the second self-published title from Quixotic Games and Andrew Parks (the first being Canterbury). This time they're delivering a deck-building dungeon-crawler.
Dungeon Alliance is a deck-building, dungeon-crawling miniatures adventure game that allows players to send 1 – 4 different teams of adventurers into perilous dungeons in search of experience and treasure. At the start of the game, each player drafts his or her own team of four heroes and uses tactical movement and cardplay to overcome the dungeon's monsters and acquire treasures. Rival teams may compete with one another to slay monsters, or even battle one another for complete domination. When the sun greets those who emerge from the pit, only one Dungeon Alliance will prove victorious!
Kickstarter
Ogre is a tactical ground combat game that features a variety of armoured, weaponised vehicles, including a massive AI-controlled tank – the titular Ogre. What makes this special is that it was Steve Jackson's very first game, way back in 1977. Yes, the company that spawned a thousand variations of Munchkin, started out with a sci-fi microgame about armoured warfare.
Soon to be released in its sixth edition, a popular request for Ogre over the years has been the inclusion of plastic miniatures. That dream has now come true with the Ogre Miniatures Set 1.
Fans have been asking for Ogre miniatures in an affordable plastic form. Finally . . . finally . . . we're able to provide a set of unpainted, unassembled ABS minis on sprues at a reasonable cost. These miniatures are in the same scale as the Ogre Designer's Edition and the upcoming Ogre Sixth Edition. Each unit is sized for one hex. Ogres, of course, take two hexes. Ogres are big.
The Ogre minis have unsurprisingly already been funded, almost reaching double the original goal of $15K, and still has 20 days left to run.
An interesting project that Stuart brought to my attention, Dialect: A Game about Language and How it Dies from Thorny Games is a tabletop RPG that requires no GM. It's far from your average game as it allows 3-5 players to work together over three ages, and create a world of their own choosing, develop a language for it, and witness its death to the world.
The game's core spark comes from gradually build­ing up elements of language among players, who gain fluency in their own dialect over the course of play. Words are built off of the fundamental traits of the community, the pivotal events that have defined their lives, and how they respond to a changing world. Players use the language and explore both their characters and the world by asking what this new language really means to them. A new word is made, the language grows, and the community is tightened.
From age to age, the Isolation changes and we see those changes reflected in the language. In the end, you'll define how the language dies and what happens to the Isolation. Players take away both the story they've told together and this new language. 
Dialect had a very modest goal of $3K, but with 28 days to go, it has already reached the $90K mark.
Alright, there were other games I could have finished this section off with, but I'm a sucker for looking at great gaming tables (one day Jason, one day). The Game Anywhere Table solves a multitude of problems that we players have with regular tables (those high edges to block dice from rolling off the table), and it's also lightweight and portable.
A customizable gaming table, for the best gaming experience, portable, storable and lightweight, that can be taken anywhere.
Starting off at $299, so it's not for everybody's wallet, but it has reached its funding of $25K with 22 days to go (currently over $65K).
Digital
Courtesy of Dire Wolf Digital, the award-winning Lanterns: The Harvest Festival is now available for both iOS and Android devices.
Lanterns: The Harvest Festival is a beautiful, thoughtful tile-placement game set in imperial China based upon the best-selling and award-winning board game.
Players take turns arranging colorful floating lanterns on a ceremonial lake. Completing sets of lanterns earns Honor, and at the end of the game the player with the most Honor wins.
Vibrant visual effects, skilled AI, meditative environmental music and smooth touch play translate the delightful zen of Lanterns: The Harvest Festival to your phone or tablet.
Here's something special for Android owners, Humble Bundle is offering a mobile bundle of amazing digital board games.
Depending on which level you support, there's a good mix of classic titles like Catan, Carcassonne and Ticket to Ride, as well as recent hits like Splendor. More games will be added later.
---
And that's it for this week. We're off to ogle Arkham Horror: The Card Game's amazing new artwork, and also compile our Christmas wishlists (Terraforming Mars – check). Let us know what you're keen to receive this Christmas with a comment.
Good gaming.